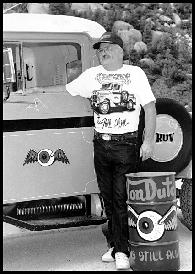 Bob Burns with the "KenFord"
This is Bob Burns, a long-time friend of Von Dutch who own the truck shortly before Von Dutch's death. Bob Burns shared a 38 year friendship with Von Dutch that began in 1954 and ended with Dutch's death in September 1992. Today Bob lives with his wife Dawn in Prescott, Arizona where they own and operate Bob Burns Signs & Pinstriping.
Bob Burns bought the truck from Von Dutch's daughter in 1992 and put it back into commission, taking it to car shows and driving it around. Bob says " It drove like it looks. It used gas like crazy. And I loved it." After Owning it for several years Bob sold the truck to Doug Nason the current owner and co-owner of the Copro/Nason Fine art gallery in Los Angeles where it has been on display.