So wot folks would do woz ta take the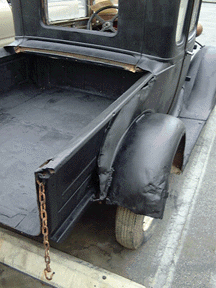 deck lid out and pound in a truck bed. this one woz pretty crude so were figurin' that this woz a very early conversion. Ya see after awhile Sears and Montgomery Ward offered kits that just slid in without havin' ta mutilate the thing.

Click on the image to get a closer L@@K !
This is how the truck bead woz installed from the inside view.. Actually it's pretty solid.